Dashboards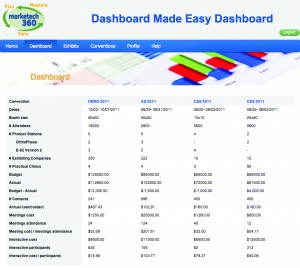 marketech360 has two dashboard offerings:
 (1) a customized web-based dashboard and
(2) a do it-yourself product called Dashboard Made Easy.
There are times that require cumulative results to internal stakeholders.
marketech360's ability to create a customized dashboard has helped various clients communicate results and value from tradeshows, meetings and events.
For other users it is more important to have a completely flexible offering that begins with a client skeleton one administered and managed by the client, with occasional interface with marketech360 personnel. You decide the metrics. You enter the data. You determine what kind of reporting is executed.