Products
 
StaffPrep on the Go
Our all new electronic tool – "where you want it, when you want it!"
---
Don't sent out your booth staff unprepared. Our new StaffPrep on the Go! Will give your exhibit personnel the tools and tips they need to be Convention Ready. Plus they can access it "where they want it, when they want it" through their smart phone, tablet or laptop.
For additional information or to purchase StaffPrep, please click here to email us, or call: 205-807-5952
---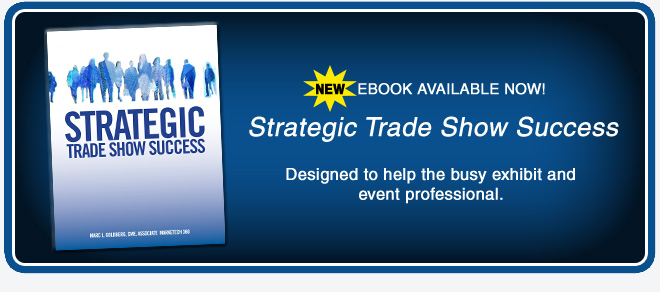 Strategic Trade Show Success
---
Written by Marc L. Goldberg, Strategic Trade Show Success is an ebook designed to help the busy exhibit and event professional get the answers to their questions while on-the-go.  Find what you want, point and click and you find the answers to your most pressing challenges.  Organized into three sections: Plan Completely, Execute Aggressively and Follow up Thoroughly and 22 chapters. As a bonus Beyond Strategic.  The text is supported with checklists, forms and best practices.
To learn more and buy visit: https://www.smashwords.com/books/view/610197
---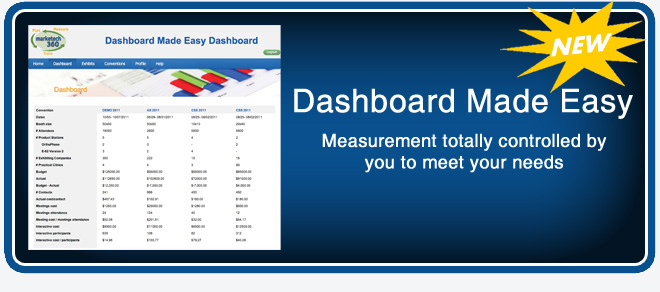 Dashboard Made Easy
---
Dashboard Made Easy is NEW and innovative! There is nothing like it in the exhibit and event industry. What makes this product unique is your are in complete control of your metrics. You decide from an inventory of options which metrics to track. You conduct the measurement, input the data and complete the metrics calculations with a click of your mouse. Metrics are recorded, stored and displayed event year or by product category.
Take a tour: http://dashboard.marketech360.com Log in info: email: demo@dme.com , password: dmedemo
$1,500, plus $20 per year hosting
---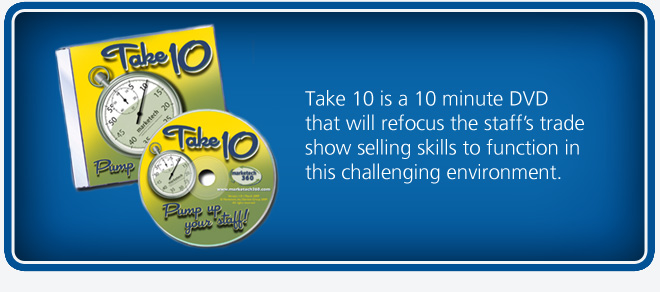 Take 10
is a 10 minute DVD that will refocus the staff's trade show selling skills to function in this challenging environment. Role-play examples are included in this compact training tool. You will get 26 years of intellectual property from professional trainers communicating skills we know will work. This unique program can easily be inserted into any preshow briefing that you will organize regardless of show size. It can be show-after-show – not just one time. It will help your staff:
Refresh their heads to focus on the skills needed to work on the trade show floor.
Engage visitors from the aisle and invite them into the exhibit.
Motivate guests to visit multiple touch points
Generate positive impressions with your visitors.
Motivate visitors to commit to post show actions
In a time of stretched budgets, Take 10 is affordable – $150 – delivered in a DVD that is portable from show-to-show.
---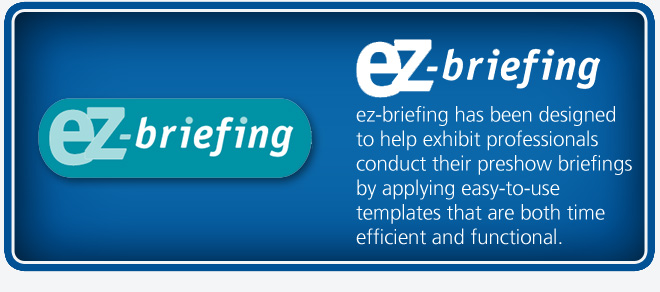 Ez-briefing
The preshow meeting on a disk
ez-briefing has been designed to help exhibit professionals conduct their preshow briefings by applying easy-to-use templates that are both time efficient and functional. Included are templates for: Preshow Briefing agenda outline, What works, What doesn't work, Preshow Briefing Guide, Staff Checklist, Preshow Coaching Guide, Generic Role-Plays, and a Post Show Review Guide.
Priced for ease of access: $59.00
---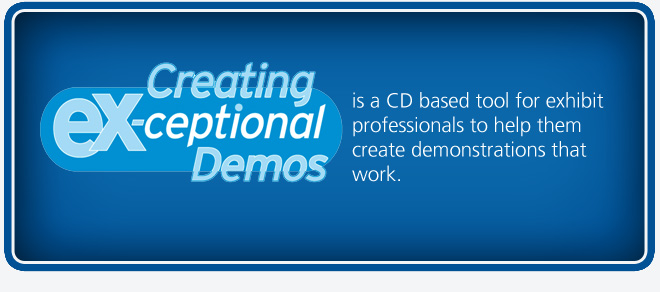 Creating ex-ceptional Demos
is a CD based tool for exhibit professionals to help them create demonstrations that work. Demonstrations that transcend "show and tell" and demonstrations that support the exhibiting mission of accelerating the sales cycle. Included are checklists for creating a demo plan, messaging and agenda, a 10 point checklist to assure you get maximum return on your demonstration investment. And, guides for staff preparation
Ready to demo: $59.00
---
Are you Game?
A game pack with 5 options to: Motivate, Education, Interact, Stimulate and Inspire your staff to improve performance.
Fun isn't a word that most trade show managers use to describe their trade show training. marketech360's new training tool turns this onerous task into an enjoyable experience.
Games are on the way: $59.00
---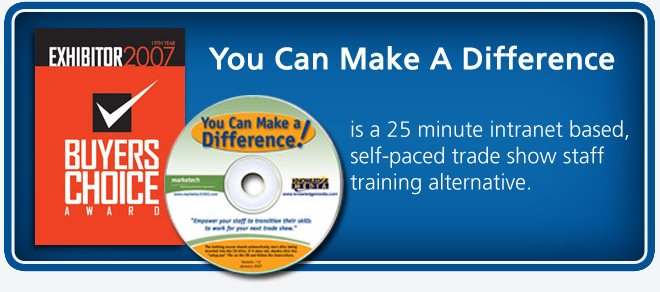 You Can Make a Difference
is a 25 minute intranet based, self-paced trade show staff training alternative.
Award winner at Exhibitor Show 2007
Intranet based, self-paced option
Generic or completely customized
Total time to complete the program – 25 minutes
Can start, stop and resume without losing your place
6 training modules
8 video role-playing vignettes
3 mini quizzes and a final quiz for compliance
Life-time license
Customized – $18,500
Generic – $6,500
---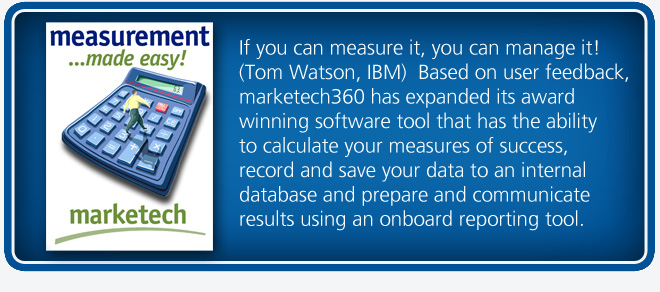 Measurement Products
Measurement Made Easy – Trade Show Metrics Software
If you can measure it, you can manage it! (Tom Watson, IBM) Based on user feedback, marketech360 has expanded its award winning software tool that has the ability to calculate your measures of success, record and save your data to an internal database and prepare and communicate results using an onboard reporting tool.
What are the new and expanded options:
Preshow: Attendance, Space rental, Rule of thumb budget, Preshow promotion, Event Budget vs. Actual showing variances
Post Show: Cost per lead, Writing orders, Return on Investment (potential ROI), Live presentations, Hospitality, Recruiting dealers / distributors, Introducing new products, Visual and Personal Reach, Cost per visitor reached, Potential visitor engagements, Cost per touch (interactives) and Sponsorship impressions.
Software, ready to use: $99.00 Single purchase user – Multi-user license- call for quote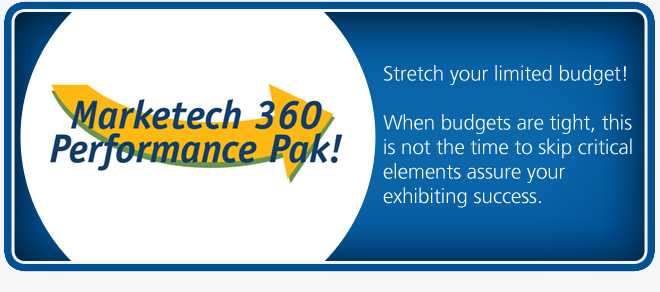 marketech360 Performance Pak
Stretch your limited budget!
When budgets are tight, this is not the time to skip critical elements assure your exhibiting success. Marketech360's Performance Pak contains three of our successful training and measurement tools: ezbriefing (preshow meeting templates), Are Your Game? (at show preshow briefing activities) and Measurement Made Easy (measurement software tool). Now you can plan, train and measure in one simple offering.
All three – $300.00
---