Self-Paced / Internet-Based Training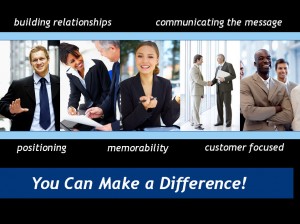 You Can Make a Difference is an easy-to-use, informative and challenging self-paced program designed to build skills essential to success on the trade show floor. The training is relevant for the novice as an introduction to working a trade show as well as for the more experienced exhibit staffer as a refresher.
Organized into six training modules with eight role-play vignettes and three embedded mini-quizzes, the program can be completed in about 25 minutes.  At the conclusion of the training there is a final quiz that helps ensure your staffers assimilate and retain the information presented. Because it's available 24/7 through your own intranet or our hosted internet location, your staff can complete the program at their convenience.
You Can Make a Difference is available in a generic version.  Alternatively, the program can be completely  customized to include your exhibit images, your messages, and your approach to reaching your targeted audience.  In addition, the customized version can be further enhanced to include additional modules that cover any specific areas or topics important to you.
 Link to demo:  http://knowledgemedia.com/clients/marketech/generic_shortversion_Jan09/player.html